Beginners Guide to Mountain Biking in Sydney
---
One of the more common questions asked in our forum from time to time is, "Where should beginners ride around Sydney?"
This page is here to answer that. From time to time we'll try and keep it up to date with a few suggestions of easy routes that novice riders should be able to tackle.
Safety First & Equipment
One of the most important things to note is that riders should always consider safety first. Sorry to have to point this out, but make sure you read our disclaimer. Please also have a look at our Ride & Trail Etiquette pages.
Handy supplies
Given this page is aimed at beginners it's also worth listing a number of handy supplies that perhaps haven't been considered, but should be taken on just about every ride. This sounds like a lot, but in practice it all fits nicely in a small pack and really doesn't weigh much at all:
A bike. Something robust and in good working order with nobby tyres. Road bikes with slick tyres won't cut it.
Water (normally lots of it).
Food.
Spare inner tube (preferably multiple tubes & backup repair kit).
Some means to inflate a flat tyre (pocket pump and/or CO2 cartridge & inflater).
Multitool for running repairs, preferably with a chain tool.
Sunscreen (apply before you ride).
First aid kit (or at least a compression bandage & some large pads for covering wounds) and knowledge to use it.
Mobile phone (although reception can be patchy in the bush - do not rely on this!)
In winter or cooler weather a rain jacket or spare insulating layer or maybe even both.
A hydration pack is handy to carry all this in.
A friend (or a few).
A smile
So, with that out of the way, here are those suggestions on routes a beginner should be able to tackle. They are all 'out and back' rides, meaning that returning back to the start is done by re-tracing the route travelled so far. Given this it's possible to turn round at any time, cutting the route short.
Bear in mind that at any time during the 'out' part of these rides the way 'home' is going to be just as far as you have already come. Keep enough energy in reserve for that return leg and also remember that any hills you rolled down will be climbed up on the return.
Northern Beaches - Terrey Hills
All firetrail out and back from Nerang Ave. This is suggested for beginners, but has a few steeper sections (downhill) to start so that's uphill to finish you off.
The Perimeter firetrail is one of the most popular trails on the Northern Beaches. This route is one of the easier options for beginners to explore.
Start at the East end of the trail, which is at the end of Nerang Avenue, Terrey Hills. Many people will also choose to park at the shops on Booralie Road (corner with Yulong Ave) and ride past the playing fields to the trailhead: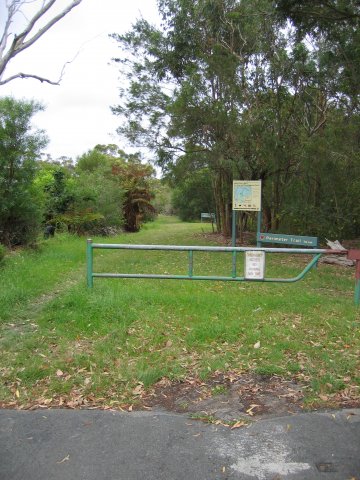 Once on the trail the first 1-1.5km has a few 'undulations'. These are mostly downhill on the way out. For a novice rider yet to build up fitness this section can be a challenge to finish off - be sure to pick an easy gear here!
There are several junctions off the Perimeter trail, but when faced with one with another fire trail choose to carry on in the straightest direction to stay on Perimeter.
There are distance markers along this trail every kilometer. Kilometer zero is at the East end (where this profile starts).
On reaching the West end of the trail simply turn round and head on back to the start.
For those not wishing to do the full out and back just turn around sooner. Or arrange a vehicle at the other end to return to the start via the road (no driving on this fire trail of course).
'Classic' Terrey Hills ride from shops to end of Long Trail and return.
Park at the usual meeting point and ride past the RFS station bearing right.
You'll cross by the side of a playing field and onto Cowrang Ave. Turn left and roll down here, bearing right down Nerang Ave to the trail head.
This is the start of the dirt. Enter the track which takes a 90 degree turn left almost immediately.
Follow this along for 6.22km. There are a few side trails on the way, but ignore them. The turn for Long trail is signposted and a right turn tee junction. Take that and ride to the end of the trail where there is a nice view to enjoy: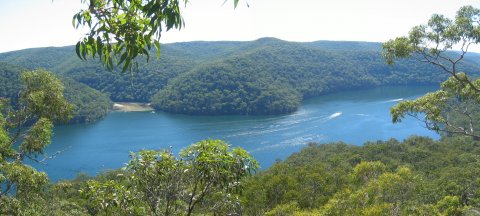 There are a couple little 'pinches' on the way out along the Long Track that beginners may find hard to ride. The last of these in particular can be very loose. Don't be ashamed to walk here.
Given the loose nature of a couple of these sections take care on the return leg. Again - there is no shame in getting off and walking where you don't feel confident to tackle the terrain, even on a firetrail.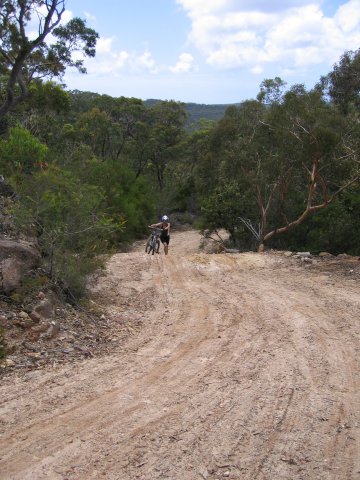 South Sydney - Royal National Park
Pretty much as easy a mountain bike ride as you will find in Sydney, this out and back is perfect for beginners.
If driving to the start, parking can be found at the Royal National Park Visitor Centre just next to the Audley Crossing. As this is a visitor's centre it has toilets, a small refreshments kiosk, etc.
So starting at the Northern end, follow this super easy out and back along the firetrail by the Hacking River. There's nothing technical here at all so this ride is perfect for beginners.
Lady Carrington Drive (the name of this firetrail) is 10km long and will take you from the visitor centre to the Southern junction with Sir Bertram Stevens Drive. The trail is mostly very flat with just a slight incline up to that junction in the South.
If the just over 20 kilometre distance doesn't sound that easy to you then as this is out and back along the same trail, just turn around earlier.