February '17 Trail Advocacy Round Up
---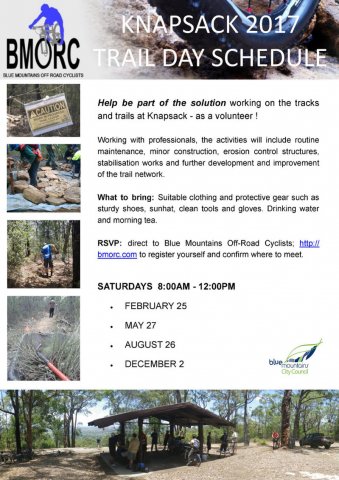 Just a heads up on a few trail advocacy happenings mentioned in the forum lately.
First off, our friends over at BMORC have locked in 4 maintenance days this year, starting on Feb 25 with Knapsack Build Day - XC and DH. All the dates are in the calendar. See their announcement for more details and discussion: 2017 - Knapsack Trail Day Schedule.
Then we have a couple of consultations here or coming up in the local area:
Eastern Blue Mountains Escarpment Master Plan survey - Thanks to BikePhysio for the heads up, and as he says, "Please take time to invest in their very short survey and propose more cycling infrastructure including the reopening of the old Glenbrook tunnel."
OMV public consult coming soon - Your chance to have your say on restoration of public land around the existing OMV site. Naturally, the more voices asking for extended MTB infrastructure the better. Be heard! And thanks to Hawkeye for kindly volunteering to liaise on this matter - it's a pretty dry and thankless task but someone has to do it!