Bairne Track
---
At a Glance
Firetrail:
3 for 4.7km (100%)
NB:
This content is part of our wiki-like trails DB. If you feel it can be improved
Login
or
register
to make your contribution.
An easy firetrail that would make an ideal introduction to MTB for beginners. A quiet ride and great views over Pittwater are your reward.
Meeting Point:
West Head Road. Bairne Track is on the East (right) 6.2Km from the junction with McCarrs Creek Road. You'll need a NPWS pass to drive here, or park by McCarrs Creek and cycle up (which gives a good chance to sample other West Head tracks on the way or return).
-33.6078,151.27 (West Head Rd)
Full Description:
Another West Head Road ride, but with a (nice) twist... other tracks on the East side of the road (Towlers Bay/Basin/Evina) are renowned for their brutal return climbs. No fear though, no such exertion awaits the rider here.
The Bairne splits left (North) into Soldiers Point and right (South) into Portuguese maybe 2.5Km from the road so technically it's three different trails. Even if one rides both forks though, 10Km is about as far as you'll go so why not take both?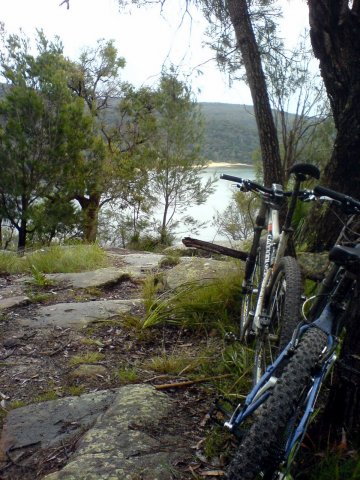 For an intro to riding off road though, it would be hard to find better. The views are great and the trail easy going. OK, for the absolute beginner maybe two or three rocky sections might pose tricky, but they are short and can easily be walked. Other rocks and such can dot the trail but given it's width are simply bypassed - well, if that's the go, get some speed and hop a few to add airborne fun to the ride.
For the more experienced it might be a little short of course - but not to worry - tag this onto your next trip up to West Head and give the climbing legs a break for once.
Past & Future Ride Meetings Here