Duck Hole/Terrey Hills Trail
---
At a Glance
Firetrail:
1 for 4.7km (100%)
NB:
This content is part of our wiki-like trails DB. If you feel it can be improved
Login
or
register
to make your contribution.
A nice easy track to join with others in the area for making longer routes.
Meeting Point:
Although we don't normally ride this trail on it's own, with a bit of road work it makes a nice loop from Terrey Hills shops (on Booralie Road) then onto Centre Track and back along the road to the shops.
That's the same as the more standard Terrey Hills rides.
-33.682365, 151.227937 (Terrey Hills Shops)
Full Description:
On the topo map, these trails look to be separate and happen to join up for a short stretch. This isn't the case however - there's no obvious turns or junctions and that 'short cut' (the most direct route from each end) doesn't actually seem to exist!
Entering on the Duck Hole end is easy: there's a signpost and gate on McCarrs Creek Road, just before the bridge over the creek of the same name. From the road you can cycle round the gate and a small bush to the left. If you're heading up McCarrs Creek Road from Church point don't take the first firetrail off to the left - that's not signposted and is actually the Chiltern Track.
The other end becomes Terrey Hills trail and is again signposted. However, that is only at the end of a short sealed road that seems to have no name and runs from the main road (McCarrs Creek again). It's pretty much the driveway for house numbers 301 & 303 so watch out for those and turn there. This driveway is perhaps 200m and is quiet a steep drop from the main road: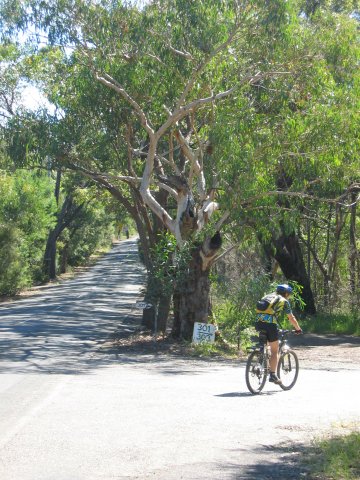 It's a nice ride through forest so is pretty shady. I don't recall any particularly challenging hills but there were a few undulations along the way. Think this is about 4.7kms in total but someone please correct me.
It's not far (about 1600m) to the Terrey Hills Perimeter Track at the West end. From the East you could cycle up to Centre Track (2Km away) or down into Bayview/Church Point on the road.
Ride Profiles Here
Duck Hole + Centre Track
(13.99Km)
If we describe this as an 'easy loop' that is a bit deceptive as there are a couple of nasty climbs, but also some fun water bar filled down hills. Nothing too technical though, this is a pure XC loop.
Duck Hole + Chiltern + Centre
(21.60Km)
Similar to the Duck Hole + Centre loop plus Chiltern track added for some tougher climbing.
Duck Hole + Waratah + Centre
(27.87Km)
Similar to the Duck Hole + Centre track loop but with some climbing road work up to Waratah out and back.
Past & Future Ride Meetings Here