Kinross State Forest
---
At a Glance
Single Track - Enclosed:
13 for 11km (55%)
Other:
9 for 8.7km (45%)
NB:
This content is part of our wiki-like trails DB. If you feel it can be improved
Login
or
register
to make your contribution.
Kinross State Forest is one of NSW mountain bikings best kept secrets. The mountain biking trails include over 20km's of purpose built singletrack through lush pine forest and over varied terrain.
The area offers a large percentage of singletrack suited to riders of all abilities, with a good combination of easy flowing smooth sections teamed with some more technical short and sharp hills, fast descents and some fun surprises thrown in along the way.
Meeting Point:
The city of Orange is around 4 hrs from Sydney and 3 hrs from Canberra. Kinross State Forest is situated on the northeast edge of town, a 10 minute drive or 20 minute ride from the Orange town centre.
Meet at the Bulgas Road carpark, Western edge of the forest.
Drive out from Orange on the Ophir Rd, before you reach the rubbish tip, turn right onto Bulgas Rd. Follow this about 2km to the forest (the road turns to gravel).
Note that the 'Directions there' google maps link below may not give the best route/destination. It seems that google maps ignores Bulgas Rd when selecting a route and gives the next closest spot. The 'Meeting point' link should be correct.
-33.269312,149.16427 (Bulgas Road carpark)
Full Description:
Kinross State Forest
Note that there's a link to a printable PDF map below.
History
Chicken Legs posted a great bit of nostalgia here... as he said, "Old map I come across today, some of you may never have seen the humble beginnings. "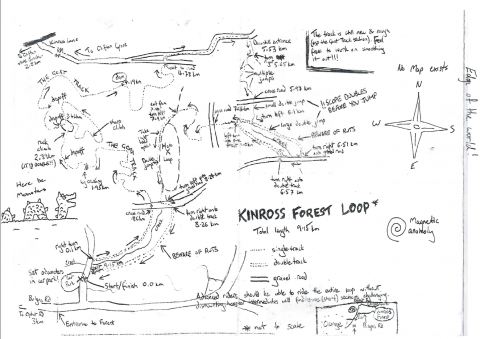 Facilities/Points of Interest
This dam on the "Goat Track" and at the top of "Bogan's Run" started to be known by this apt name and it's good as a geographical reference point.
It is sometimes used as a base for smaller XC races at Kinross. It's accessible by 2wd tracks just off "Kinross Lane".
The "Trail Head" category doesn't really fit that well but it will do, although it is the trail head for "Bogan's Run"
Mt Bulgas Reserve is the highest point in Kinross State Forest (well technically it's in the adjacent reserve).
The view used to be better when the trees were shorter but it's still not bad. It's all downhill from here but a good challenge to climb to the top!
There's a shady parking area by Bulgas Road in the Western Edge of the forest.
Past & Future Ride Meetings Here