Manly Dam
---
At a Glance
Firetrail:
3 for 4.8km (44%)
Single Track - Enclosed:
2 for 3.1km (29%)
Single Track - Exposed:
3 for 1.9km (18%)
Other:
2 for 1km (9%)
NB:
This content is part of our wiki-like trails DB. If you feel it can be improved
Login
or
register
to make your contribution.
One of Sydney's best rides - From Less experienced to Intermediate and even Advanced, all enjoy this ride.
-33.781501, 151.258115 (Manly Hydraulics Lab)
Full Description:
Technical and challenging - but easy to get off and walk the sections that are beyond your abilities - this ride will show you how you are improving, but take care its not for first time beginners, there are some sections that can be a danger to Novice riders.
About 1-1.5 hours (or faster, check Hot Laps), 10.3km circuit. Other options are the Bantry Bay ride, 1.5-2 hours, 16k circuit.
Watch out for the tricky bits...
A tight and testy little piece of single track that winds it's way up and down steep rocky tracks. This ride has some magnificent views of the dam and the ocean. You will be transported within minutes into the wilds of Seaforth, and begin to imagine that Sydney has left you behind. Then gasp in awe at the beauty of the coastline. Huff and puff your way up the steep 4WD track to Allambie and then enjoy the ride home!
If you feel like adding a little more into a lap then consider crossing the Wakehurst Parkway to Bantry Bay, around half way (actually, it's behind you as this picture is taken):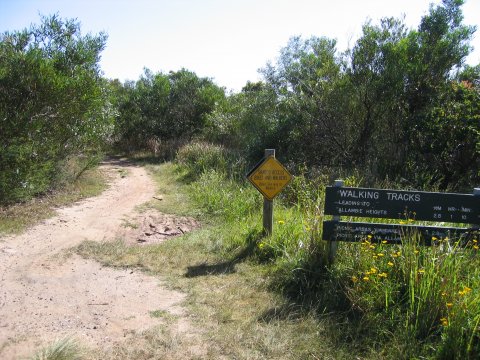 Nice directions from Stuart:
... this goes up a short hill (Arana Street) and comes to a 'T' intersection with Gibbs Street. Turn right here and continue up the hill. At the top of the hill there should be a school on your right and its carpark immediately in front of you. Go through the carpark and follow the dirt trail which skirts around the top of Manly Dam Reserve. This track comes out behind some houses and eventually spits you out on a road above Manly Dam Reserve. Stay on these roads, keeping the reserve on your right, the road eventually turns to gravel behind some more houses and then to a short dirt track through a grassy fire break behind yet more houses.

At the end the fire break you join back up to yet another road, this one has a school on the left hand side of it. Stay on the right hand footpath and about in line with the round about is a bush track on your right. From memory this has a bike sign on it. Go in here and head up hill. After a short climb you should come to a fork in the track, on your right through trees are some tennis courts, keep going straight up the hill and this should bring you out at a carpark outside the golf club with an oval opposite. Cross the carpark, and head across the oval, keeping as close to the bush as possible and this should bring you back up to the bowling club on the far side of the oval.

Once you pass the bowling club and duck under some trees on your right there is a bush track on your right which you should enter. If you hit bitumen again you have gone too far. Follow this track, it comes out at a 4WD access road, turn right back down towards the golf course. Before you get to the end of this access road (ie hit the fairways) there is a track on your left hand side almost at 90 degrees to the one you are on. This is the start of what is known as the Golf Course Track or the Trig Track. It is single track and is great fun. From here you shouldn't get lost. On rock platforms look for little white arrows on the rock. This track ends at another 4WD access road, at this junction you should be able to see Wakehurst Parkway immediately on your left, turn right and follow your nose.
And in case that wasn't enough, we have step by step instructions and pictures for the Manly Dam Circuit.
Walkers Only
There are numerous other trails around the Dam, but these are for walkers only. In the interests of keeping council and rangers on-side please stick just to the designated MTB circuit.
High Maintenance Track
Is this sounding good? Hundreds of riders think so, which makes the Manly Dam circuit rather congested and can cause a number of trail maintenance problems. All the traffic causes plenty of erosion which is exacerbated when the weather is wet - and it doesn't take long before sections of the trail turn into a complete quagmire. Rather than kick cyclists out of the park altogether, the rangers have taken the sensible approach of closing the trail during wet weather to limit damage. Email the rangers at the address below to get on their list and be notified of closures, or call or check our news or with local bike stores if you're not sure. Remember that a few days of sun cannot undo several weeks of rain before you head out.
The rangers have also begin to hold maintenance days (you can read more about one in this article) and if you enjoy this track please consider taking part in one. Contact them for more information:
Office: 112 King Street, Manly Vale
Phone: (02) 9949 3235
Email: MtBikeTrailInfo@warringah.nsw.gov.au
Facilities/Points of Interest
There's a tap on the wall of the Hydraulics Lab on King Street. It's just to the right of the entrance of the lab almost directly opposite Arana St.
There is a small parking area at the end of Nyrang Road which the mountain bike track passes straight by.
There's plenty of parking all along the road by the lake, which is accessed from the West end of King Street. If you're planning a BBQ or want to take a swim after then this is probably a more convenient location.
King Street has 90 degree parking outside Manly Hydraulics Lab, so there's usually plenty of room. Please respect the local residents when arriving & leaving: keep noise to a minimum and don't leave any rubbish.
A small gravel area on the Southbound side of the Wakehurst Parkway. This probably isn't the safest place to park as it's out of the way and very close to a peak in the road giving poor visibility when coming and going.
There are numerous BBQ areas by the lake. Contact Warringah Council to book one. Some covered and some open spaces.
There are toilets by the picnic area that is reached from King Street. There are actually three separate blocks spaced along the lakeside.
Ride Profiles Here
Manly Dam - Main Circuit
(9.72Km)
One of Sydney's most popular rides - the famous mountain bike circuit around Manly Dam Reserve.
This is the basic loop, taking in some technical single track, some firetrail and some roads to link it all up.
Past & Future Ride Meetings Here