Mount York
---
At a Glance
Double Track:
1 for 3.2km (18%)
Firetrail:
1 for 2.6km (15%)
Mixed:
1 for 5.7km (31%)
Single Track - Enclosed:
2 for 6.5km (36%)
NB:
This content is part of our wiki-like trails DB. If you feel it can be improved
Login
or
register
to make your contribution.
Three distinct routes from the Mt York peninsular to Hartley Valley below - two single track and a third fire trail make for a few combinations with one thing in common - the 250 vertical metre drop. This is steep, and on occasion, very tricky stuff.
Meeting Point:
Mt York Road, in Mount Victoria. You could probably park anywhere along here, and there's a decent sized area (with camping I believe) at the end of this road. That said, the junction with Berghoffer Drive/Lockyers seems the most sensible suggestion.
-33.575583,150.240183 (Mt York Rd)
Full Description:
Several roads were constructed off the Mt York peninsular by convict labour, in an effort to find a viable route off the Blue Mountains escapement in to the rich farming land of Hartley. Lucky for us remnants of these trails still exist and make for great riding.
Much of Lawsons Long Alley runs through private property yet a nice stretch of single track has been constructed along the gully, beside the original road allowing walkers and riders through passage. The gently winding single track makes for great riding but the climb/descent on the road through the escarpment is hairy in places.
Lockeyers and Coxs offer more technical single track riding and a single track leading out from the Lawsons trail head makes a great alternative to the road out to their trail heads, with great views to boot (check out Bardens Lookout in particular).
Berghoffers road was the last of the convict roads made in the area. You'll have to do some road work (on thankfully quiet rural black top) to join this to the other trails as it runs from the base of Victoria pass up to the Lawsons trail head. Made to accommodate early model cars which struggled on the steep grade of the pass, Berghoffers follows a gentle gradient on wide track with spectacular views of Hartley.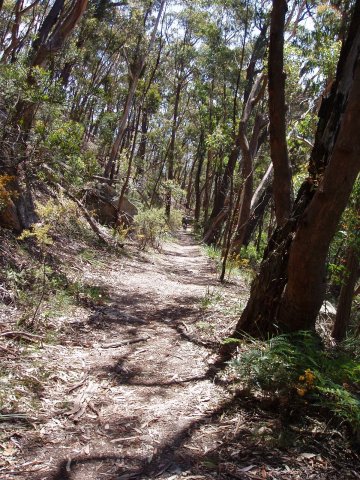 *Thanks to flynny of Insane Cycles for much of this info - the local expert in this area.
Facilities:
Top of the trail isn't far from Mount Victoria (the village) and there's a great pub in Hartley Vale (at the bottom of Coxes/Lockyers): The Comet Inn which is clearly a top place to take a break.
Past & Future Ride Meetings Here