Oxford Falls (Morgan Road)
---
At a Glance
Firetrail:
6 for 9.8km (33%)
Mixed:
1 for 2.9km (10%)
Single Track - Enclosed:
19 for 17km (57%)
NB:
This content is part of our wiki-like trails DB. If you feel it can be improved
Login
or
register
to make your contribution.
Also know as Morgan Rd for it's meeting point this area has heaps of trails to join up and make the ride anything you like. Most of these have at least one or two technical sections, many are 80%+ technical!
Meeting Point:
Morgan Road, Belrose. At the second 90 degree right hand bend in the road. There's an area just before you can park and a firetrail heading off to the left.
-33.722089,151.228969 (Morgan Road)
Full Description:
Illegal Trails
During March 2008 we were approached by NPWS and asked to point out that a number of known trails in this area are out of bounds. Riding on single tracks in National Parks is illegal and heavy fines apply. If you'd like more background on this see NPWS Meeting Apr 9, 2008.
These trails will be left on the map as they are well known, but please do not ride:
Cross Country Course
Little Moab
Moon Rock (NB: this is not on NPWS land but has is a site of significant cultural value, NPWS policies can be extended to protect such areas even when outside their parks.)
Deep Creek
Road to No/Somewhere
The Good Stuff
This is a fantastic area of many trails that can be linked to give a long or short ride. Many downhill types just love the... erm... Downhill Track (and Lizard Rock if they are crazy enough) but there is much more to discover than that. Plenty of these trails do have technical rock climbs and drops though so it's probably not for your pure cross country ride unless the rather steep climb of the main Morgan Road Firetrail is what floats your boat.
Downhill Track
Just a few metres down the road to Slippery Dip take a right into the trees. And I mean a few metres, if you get to the gate that's way too far - ride back up the incline where you came from and you'll now see it on the left - that'll teach you for going to fast!
Take care - there seems to be a few routes through these trees, and there are - but if you feel like the terrain is dropping you're going the right way. Keep on grinning all the way to the bottom of Morgan Road of Kellys Way.
Lizard Rock
Don't even go on the way to Slippery Dip, head down Morgan Road then cut off into the bush right a few metres before the painted rock. Quiet a lot of North Shore style raised boardwalks, ramps, jumps, etc. in here. Although the section is quiet short there is some very serious downhill action to be had, luckily with chicken routes round most of it if you are not a pro. Warning: We mean it - there are some huge drops and jumps here, exercise extreme caution and ride within your limits!
Slippery Dip/Morgan Road Firetrail
This is the main 'highway' through Oxford Falls - running all the way from Morgan Road itself almost to Wakehurst Parkway. The trail doesn't actually join with the parkway but stops at the top of Gutter Ball - a very steep gutter down to Deep Creek.
Power Lines/Nursery Rhymes
Both these start of at the end of Kellys Way (left at the bottom of the hill on Morgan Road). Nursery Rhymes is tough and technical, headed uphill to the left at the first junction and comes out on Slippery Dip trail about 700m from the entry gate.
Power lines is the other direction at that junction and a simpler climb, eventually coming out on the main Morgan Road firetrail.
Gutter Ball
Nice name (can't take credit for this) - a very steep section dropping from the end of Morgan Road Firetrail to Deep Creek. Rather rocky at the top with some big drops, this trail then funnels riders down a chute (where the name comes from) before spitting them out onto the Deep Creek Trail.
Five Mile Creek Trail
Quiet separate from all the others here, this is a long firetrail that's around 400m back along the road towards Forest Way. Going that direction, head right up a driveway, round/over/through a gate and down the firetrail. You can't really go wrong, cycle 'til you get to the end.
Towards the end there's a left junction up a steep trail to the top of a hill. No real view, but do it for the training

There is another entry point at the end of Hilversum Cresent. This follows another firetrail which is steeper, more slippery and comes to an apparent dead end. Don't worry, there's a little hike through the trees and you'll come out on the main trail: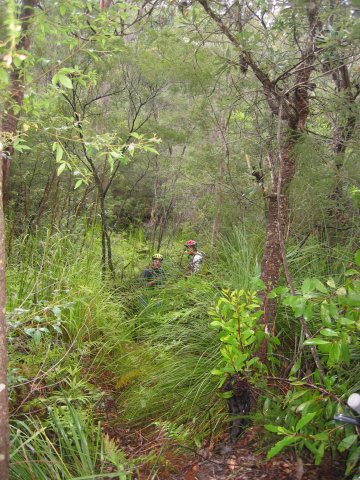 Turn left to head to the end, right to head back to Morgan road.
Facilities/Points of Interest
Past & Future Ride Meetings Here