Terrey Hills / Duffys Forest
---
At a Glance
Double Track:
3 for 3.8km (13%)
Firetrail:
12 for 25km (82%)
Single Track - Enclosed:
4 for 1.6km (5%)
NB:
This content is part of our wiki-like trails DB. If you feel it can be improved
Login
or
register
to make your contribution.
Fire trail. Not technical, but one of the best views at the end of the Long Trail. Some more challenging climbs to be had on the options south of Booralie Road.
Meeting Point:
Park opposite/beside Terrey Hills shops, corner Booralie Rd/Yulong Ave. Or in the small carpark next to the RFS station & community centre.
-33.682365, 151.227937 (Terrey Hills Shops)
Full Description:
A number of fire trails in this area (Perimeter/Long/Cowan/Cullamine/Sandy/Neverfail Gully) can be linked to form rides from 7km (one way on Perimeter Trail (you'd have to have a vehicle at the other end) to well over 30km. E.g. a nice out and back from the shops on Booralie Road along Perimeter & Long Trails is around 24km return and goes like this:
The Perimeter/Long Trails form around a 12km out and back of fire trail with a little single track here and there. There are no really big climbs to speak of, but it does undulate, quite steeply in parts, so don't worry if you have to get off and walk a little. You can get some good speed at times downhill and can have fun on some nice jumps in the trail in places. It can be quite sandy or muddy too, but that's not a big deal.
Start point - Terrey Hills Shops
Get on your bike by the shops and go past/behind the rural fire station and along the edge of Terrey Hills Playing Fields. Then it's a left down Cowrang Ave, bear right down Nerang Ave at the end of which the Perimeter Trail proper starts.
At the end of Nerang Ave just cycle on down the trail. There is a Nerang Track marked on the map but it's walkers only, overgrown and easy to miss. The Perimeter Trail which we're following turns left 50m after leaving the road so bear with it.
At 1.7km or thereabouts there's another junction before the track starts downhill. Again, to the left - takes you back to Booralie Rd. That's about it - turn round and come on home, or continue with the Long Trail ride below

Alternate start point - Booligal Rd
It may be better to join Perimeter Trail at the Booligal Rd entrance, as the earlier section of trail is largely on road, also bypassing the often boggy clay section of Perimeter Trail between Nerang Ave & Booligal Rd.
Long Trail ride
Continue along Perimeter Trail from the junction of Booligal & Smiths until you come to the Long Trail junction after about 4.3km. Luckily this junction is large and Long Trail is signposted. Take Long Track and go right to the end where there's a nice view to take in (click to enlarge).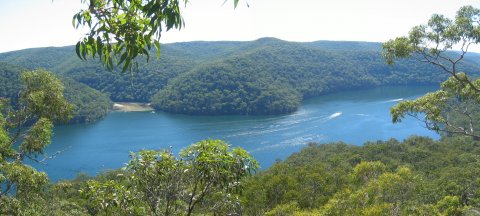 After returning from the Long Trail one way track, can extend the ride by continuing West along the Perimeter Track which joins up with Cullamine. At the end of Cullamine, head along Booralie Rd-Thuddungra Rd-Killawarra Rd, to connect to Sandy Track, then Neverfail Gully Track.
The following other trails exist in this area that can be linked in some way or another:
Perimeter Trail
The Perimeter Trail is the main gateway track to many of the other trails in the Terrey Hills area, providing a connection to Long, Cowan, Wilkins Loop, & Cullamine Tracks.
The first section of track starts at Nerang Ave, & runs along a flat cleared section between a row of back fences & the edge of the National Park. Due to the clay surface, this section can get boggy after the slightest rain, & takes a long time to dry out. This first section has a lot of exotic weeds due to the proximity of the houses, which obstruct the path in areas.
Further along as the track closes in on the Smith Track junction, the track starts to become more challenging & interesting, with a varied rock & sand surface, & a few small hills.
Long Trail
Long Trail runs NW off the Perimeter Trail, ending in a lookout over Cowan Creek towards Berowra. Mostly gently undulating, with 2 or 3 short steep rocky sections, the track forms a nice training run suitable for all levels of rider.
Cowan Trail
The Cowan Trail forks off West about 850m from the Long/Perimeter junction. This is a nice diversion from the other firetail in the area as is narrow (more like double track) and has some rocks that can be challenging to ride depending on the line taken. It's an out and back that goes both directions.
That's good news as although Cowan is still a fire trail, it thankfully has a couple of little rocky challenges make a nice change in this area. Sadly at 2km one way this is all too short, but there's a nice view of Bobbin Head from the end, and those few rocks to look forward to on the return.
Update Sep-2011: Pay no attention to the 'Walkers Only' signs here as NPWS have confirmed it is okay to ride MTB. There is reference to a letter from the rangers here [ http://nobmob.com/node/31355 ]. As quoted from the letter:
"I can confirm that mountain bikes are permitted to use the Cowan Track / Fire trail (that goes off the Long Trail) in KCNP.
It was previously a "Walkers Only" track but the Northern Beaches Area made the decision in 2010 to open the track up for responsible mountain bikes use. Cowan Track remains closed to horses."
Cullamine Road/Trail
From the West end of Perimeter Trail bear right along what is Cullamine Road, then straight on down Cullamine Trail. This is more of the same firetail type stuff and adds around 1.7km (??? one way) to your ride.
Update Dec-11:At the southern intersection of Cullamine Rd & Booralie Rd may be tempted to head straight across & down the hill. There are no legal entries or exits to this trail as private property signs & gates exist at all the exits, plus a private property sign at the Booralie Rd entrance.
Sandy Trail
Sandy trail is... erm... well, a little Sandy. There used to be more rocks there than the name would imply, but this seems to have been graded around the end of 2006 and now it's looking like standard fire trail. The East entrance is at the end of Cooyong Road, and the West entrance down the driveway of 415 Killawarra Road. If you don't mind a little more road work to complete the loop, Sandy Trail makes a nice diversion with some quiet challenging climbs and technical sections.
There is a junction half way down that can be used to join with Ryland.
Neverfail Gully & Larool Trail
Not much to say here - these are a nice way to avoid the black top when traversing round to the South of the Terrey Hills area. They are pretty standard fire trail, but hey - beats the road any day.
Wilkins Loop NORTH Track
This trail runs off and rejoins Perimeter in a short loop and is signposted with horses permitted on it. This track allows both horse riders and MTB riders. It looks like it is rarely used by either horses or MTB's and feels like a sniggle. Nothing challenging here but provides an interesting diversion from riding completely along Perimeter.
Illegal Trails
NPWS asked to point out that a number of known trails in this area are out of bounds. Riding on these tracks in National Parks is illegal and heavy fines apply. These trails will be left on the map as they are well known, but please do not ride.
Smiths Creek
Duffys
Slades
Booralie
Bibbenluke
Wilkins Loop SOUTH Track
Update Winter 2009 : It sounds like a good training idea, but although Smiths Creek is a wide and smooth firetail in we hear that rangers have been fining riders there so might be better to stay away.
Update December 2011: MTBs & horses are not permitted on Smiths Creek, Duffys Wharf, Slades, & Bibbenluke Trails. - NPWS"
Duffys Track
Update Dec-11, Closed: NPWS has placed a no bicycles sign on the Duffys Track. Confirmed with NPWS ranger that sign was placed there about a month ago due to damage from MTB & horses. Ranger was very clear that no cycles were permitted on this track.
Where Cullamine Trail meets Booralie Road is a cross roads type junction. There is a gate to the right (West) marked Ku-ring-gai Park. There is a sign stating no vehicles (motor cross bikes) or horses, but I believe the MTB rule is - if you can get a 4WD down there it's OK. As you could, and the trail is well formed guess it's OK to cycle. Anyhow, Duffys Track heads out to what is sign posted (half way along) as Slades Lookout (perhaps 1Km one way). At that halfway signpost (which is very old - don't know how long it will last) is a junction with a track to the right (North). It seems that this right track will go down to the water, but don't try - last time we looked it was very overgrown, steep and slippery and blocked with many fallen trees.
Booralie Trail
From this same cross junction Booralie Trail heads South. The topo map shows this weaving around a little and joining Bibbenluke Track at the end of Bibbenluke Ave. From the junction with Duffys the trail falls quiet steeply and crosses a small creek (puddle in the trail) before climbing.
What isn't show on the map is after this climb you'll come across an electric fence surrounding Waratah Park! Due to this, head left at the first fork you come to (the right 'fork' is through an old gate) and then skirt round the fence left to Namba Road and the park's entrance.
Update Dec-11, Closed: Confirmed with NPWS & Dept Lands that the 1st & last third of the track have been sold off , & are now private land. i.e. There is no longer any legal access to this trail.
Bibbenluke Track
Steep track down to the water's edge (apparently) with some single tracks to explore to its west.
Update Dec-11, Closed: Closed to MTB.
Wilkins Loop SOUTH Track
Closed to MTB:
The Wilkins Loop South Track does not permit horses or MTBs on it, as it passes through Duffys Forest EEC and is clearly signposted and fenced off.
Facilities/Points of Interest
There are many taps by the Community centre on Yulong Ave: by the centre entrance, on the back of the community centre building, on the wall by the RFS and by the park almost right next to Yulong Ave.
There's a nice view over Cowan Creek from the end of Long Track.
There's lots of parking by the Community Centre/RFS on Yulong Ave.
There's a small parking area right at the West end of Perimeter Trail accessed via a dirt/gravel road.
There are two schools by Durumbil Rd & Echunga Rd and plenty of parking here.
Public toilets by the community centre on Yulong Ave.
Past & Future Ride Meetings Here